The adventure and wildlife excursion in Pench National Park cannot be satisfying until you go on the wildlife safari in this park. Sighting wild animals in their natural habitat in Pench National Park is something that makes the visit to this park fulfilled for any visitor. The exclusive presence of different kinds of birds in the park makes it a perfect ecosystem for wildlife and hence, a wildlife explorer finds this place quite same as a dream land.
Pench National Park sits quite close to Maharashtra and Madhya Pradesh states and the entire park is divided into seven zones of safari. These zones are located at the approximate distance of around 2 – 80 kms. Some of the Pench National Park zones fall under MP and some under Maharashtra. The MP zones include Karmajhiri Zone, Jamtara Zone, Turia Zone, Wolf Sanctuary zone, Teliya Zone, Rukhad Zone; whereas, in Maharashtra Pench National Park zones, Sillari Zone and Khursapar Zone are included.
To enhance better visibility and promote ecotourism inside Pench National Park the forest department has divided into five zones.


Touria Zone – This is very popular and considered to be premium zone of the Pench National Park. It is open for tourists from October till June.
Karmazhiri Zone – This tourism zone is also considered as the premium zone of the Pench and shares partial area of Turia gate.
Wolf of Sanctuary – It is rocky area of the forest and famous for Wolves.
Khursapar - Three beautiful water bodies are inside the forest, which attracts a lot of bird life as well as wildlife.
Sillari - This zone is also known as Bison retreat which is 35 kilometers from Village Machaan Pench. Park is open from Oct till June.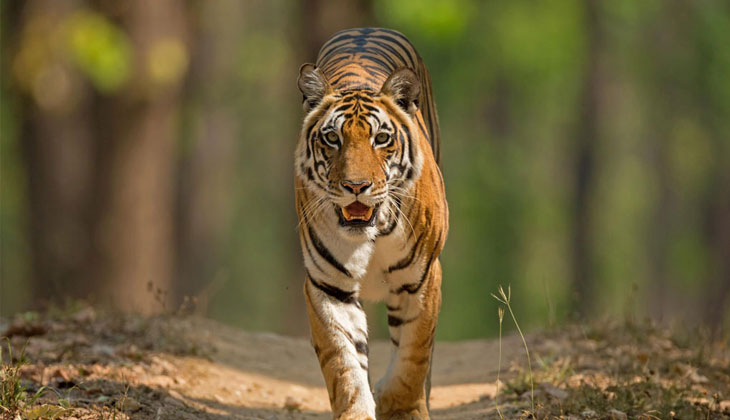 Entry timings for Pench National park are as follows:
Morning safari Timing - 06.30am – 11:00am to 9:30 AM
Afternoon Safari Timing - 02.30pm – 06.00pm PM
Night Safari Timing - 06:30 PM to 9:30 PM
Note: Entry gates open for tourists round the year.