Pench National Park is a wonder land for a wildlife lover or naturalist as here, a traveller can find several amazements draped in the greenery and wildlife can be spotted here at their best. So, a tour to Pench National Park would certainly be a dream of many, but to have the best experience, you must plan your tour at a right time. Here, we are presenting information related to the best time to visit Pench National Park. Consider this information while planning a trip to Pench National Park and gain the greatest experience of wildlife excursion here.
If you plan to visit Pench National Park during your summer vacations, then it will be a great idea to get enough water, sunglasses, hats etc. with you for a good experience. Though the monsoon season is not considered as a good time to travel in Pench National Park as during this season, the park remains closed. The best time to travel in this park is the winter season as at that time, you can see numerous migratory birds sheltering in the surroundings of this park and wildlife beauty reaches at its best.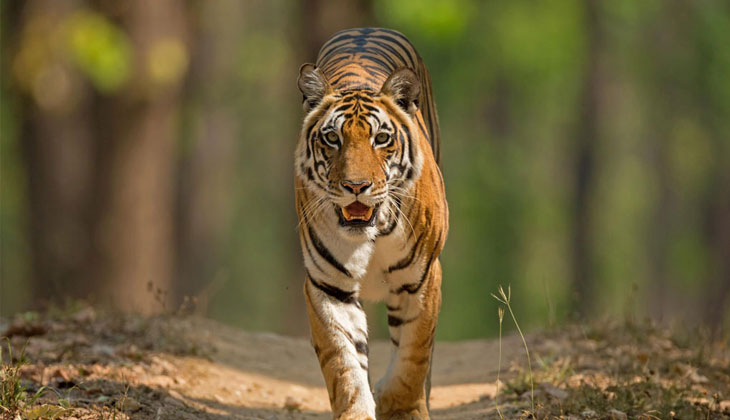 Information Related to Weather In Pench National Park -
As Pench National Park is an important part of Madhya Pradesh in India, it shares the same climate as in other parts of the state. So, in summer season, you will find here scorching heat with a very high temperature that ranges between 21 degree c to 42 degree c during the months of March – June.
With the arrival of July, the warm climate of this place starts taking a back step and heavy rainfall starts and for this reason, the park gets closed during monsoon till September Month. The closure of the park follows to winters and this is the ideal season to travel in Pench National Park.
Temperature During Summer –
28℃

–

45℃

in March, April, May and June Months

With the arrival of March, the summer period uses to start and starts spreading the warmth till the month of June in Pench National Park. During this season, the temperature goes up to 42 degree c and hence, becomes quite difficult season to tolerate by travellers. Though with proper arrangements of clothing and drinks, one can manage to have a good experience of travelling in this park during summers.

Temperature In Winter Season In Pench - 10 ℃ to 28℃ degree c in November, December, January and February Months.

There is no doubt about the winter season to be the ideal time to tour in Pench National Park as during this period, the weather remains tranquil and pleasant for nature lovers or all kinds of visitors. Usually, temperature in this period drops down to 5 degree c. So, you can enjoy the most in this winter season in Pench National Park.

Monsoon Season – 23℃ to 34℃ in July, August and September months It is not a recommended season to travel in Pench National Park due to frequent rain showers in this region which may lead to slippery paths or any unfavourable accident to visitors.