To have the greatest delight of the best jungle safari in the beautiful land of India, a tour to Pench National Park has seriously no match around. This is the place that knows it all how to serve tourists a matchless wildlife excursion like no other wildlife destination can offer. Officially shared between two big states in India – Madhya Pradesh and Maharashtra, Pench National Park offers morning as well as evening jungle safaris to wildlife enthusiasts. Though the experiences of jungle safari in both states are different as only higher authorities have that right to organise or take any decision related to the Pench National Park.
As in organising jungle safari in Pench National Park, sunrise and sunset plays a crucial role, there are always different safari timings for summer and winter seasons. According to the critical rule about this park, it opens up half an hour earlier to sunrise and also, closes down half an hour earlier to sunset. In case of a VIP entry, the Pench National Park management can make changes in its safari timings and make it according to the schedule of the VIP.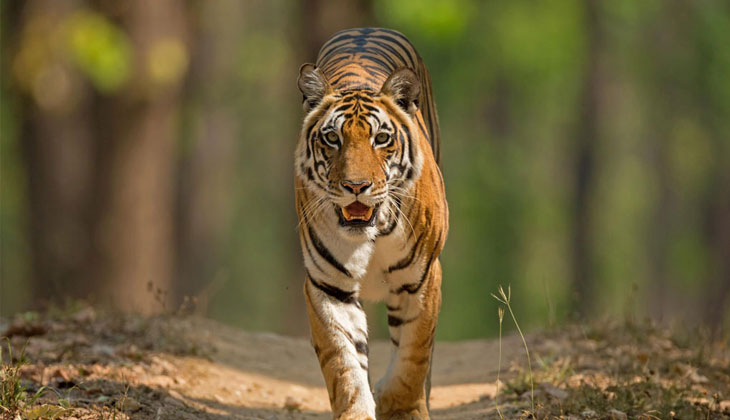 Detailed safari timings in Pench National Park
Pench National Park offers two safaris in a day – Morning safari and Evening Safari. These jungle safaris are conducted from sunrise – sunset and from 11 AM to 3 PM, the safari remains stopped for a break. Depending on the season, the timings of safari have a little change as below:
Safari Timings of Pench National Park in Madhya Pradesh –
Closure Detail of Pench National Park -
From 16th June – 30th September, every year, Pench National Park and Reserve in Madhya Pradesh remains closed for the visitors. In addition, this park usually remains closed for the visitors' entry for evening safaris on Holi and Diwali and all Wednesdays.
Though Pench National Park in Maharashtra remains open throughout a year without any closure for visitors.
| Period | Morning "Entry-Exit" | Afternoon "Entry-Exit" |
| --- | --- | --- |
| 1st July – 30th November | 06.30am – 11:00am | 02.30pm – 06.00pm |
| 1st November – 28th / 29thFebruary | 06.30am – 10.00am | 02.00pm – 06.00pm |
| 1st March – 30th April | 05.30am – 09.30am | 03.00pm – 07.00pm |
| 1st May – 30thJune | 05.30am – 09.30am | 03.00pm – 07.00pm |