Pench National Park and Reserve is a heaven for bird lovers as the delighting view of numerous colourful birds is truly divine. A tour to Pench National Reserve during its peak season would enable you to see a remarkable variety of migratory bird species that have turned this park into their ultimate home. Bird watching in Pench allows bird lovers to see rare species of vultures such as the hornbilled vulture, white rumped vulture, the King Vulture and the White Scavenger. In addition, this attractive reserve is a home of birds like the Barheaded Geese, Brahmani Ducks, Malabar Pied Hornbill, Grey Headed Fishing Eagle etc.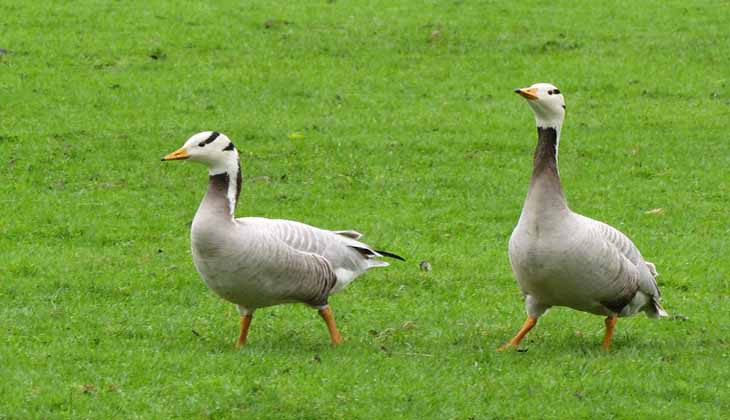 Pench National Park – A Brilliant Platform To Have The Best Birding Experience –
Named by the Pench River floating around the park, this wild park provides an exceptional platform to bird watchers. The river flows through the park as a python segmenting the area down from its centre. This place is enriched with the dynamic biodiversity with attractive hills, mesmerising valleys and precipitous slope that make a perfect ecosystem to a great flora and fauna with aquatic life.
It is worth to be noted that the charm of this area available in the central zone of India has gained immense popularity and literary attention as there are so many books and journals published on and around it. In the famous literatures namely Sakuntalam and Meghdootam of Kalidas, you can read about the charm of this region. Just as Kalida, R.A. Strendale pens down about this heavenly place in his creation "Camp in the Satpura Hills" and appreciate the biodiversity and ecosystem of this place.
Truly, the mesmerising Pench National Reserve and Park is a real amazement comprising four forest areas that exhibit the lavishness of shrubs, climbers, trees, grasses, herbs and weeds and all these flora variety make a perfect environment to shelter the beautiful birds in this region.
At present, Pench National Park gives shelter to over 164 birds' species which include resident and migratory birds. You may have not ever heard the names of many of them as it is a home of some rare and extra ordinary variety of birds. Let's check out what kinds of birds can be seen during your visit to Pench National Park and Reserve.
Rare Birds' Species of Pench National Park –
Pench National Park offers a perfect shelter to a wide variety of bird species in India. There are some birds that can be seen anytime during a year, but few of them are rarely found all the time as they are rare birds' species of Pench. In these birds' species, Jacobin Cuckoo, Yellow Crowned Woodpecker, Black Shouldered Kite, Indian Grey Hornbill, Eagles and Kites are name of few.
Popular Species of Birds Residing In Pench National Park –
The most popular birds that you must put efforts to spot in your bird watching tour to Pench National Park include Crow Pheasant, Jungle Fowl, Peafowl, Indian Scops Owl, Treepies, Indian Pitta, Racket-tailed drongo, Parakeet, Red-vented bulbul, Crimson-breasted barbet, Indian roller, Pintail, Shoveller, Egret, Magpie Robin, Lesser Whistling Teal, Herons, Oriole, Munia, Minivet, Wagtail, Common Kingfisher, Myna and Waterfowl.
Commonly Present Bird Species of Pench National Park –
Although, Pench National Park and Reserve is a permanent home for rare and common birds' species both. But, few bird species live here forever making this place their permanent home. These birds can be seen easily flying here and there in the park. In these birds, you can see Flame-backed Woodpecker, Spotted Dove, White-throated Kingfisher, Laughing Doves, Chestnut-tailed Starling, Asian Openbill, Black Dongo, Red-Wattled Lapwing, Bay Backed Shrike, Asian Pied Starling, Indian Black Ibis and Asian Koel.