Spanned on the South Corner of MP state of India, Pench National Park gets its named from a river called Pench which finds its way through the forest. Engraved in the south reaches of mesmerising Satpura Hills, Pench National Park and Reserve covers a huge area of more than 758 sq. kms from which 299 sq. kms is the area of park and sanctuary. It is not end of the story of Pench, but there are so many great aspects that need to get enfold to make you excited about visiting this amazing wildlife destination in Madhya Pradesh.
Though Pench National Park comprises of various factors, but for tourists, the information on top activities to enjoy around Pench National Park is something actually interesting. In this article, we will talk about few great activities that you can indulge in during your visit to Pench National Park.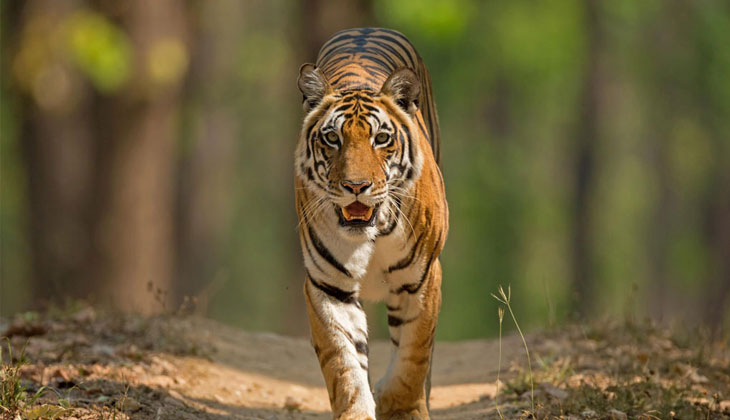 Exploring The Village of Potters At Pachdhar –
Located at 80 kms away from the beautiful city of Nagpur, Pachdhar is a small yet beautiful village in Seoni. In this village, you will see a great potters' community. To reach here, you can drive from national highway 7 as it will allow you to enjoy the beautiful natural landscapes of teak trees, a group of potter community and paddy fields developing great scenery to one. Their work on the wheels would definitely enthral you from deep inside. In this village, around 100 potters' families reside and their pottery work is loved by everyone.
The exploration of Pachdhar village will allow you to see some great pottery products namely gullak, matkis, kulhars, diyas etc. For more exciting experience, you can see these items being created live. All these products are fully organic as they are made of natural ingredients by hand and no tool or mechanical mixtures are used to create them. So, the visit to Pachdhar is a great activity to indulge in during your visit to Pench National Park.
Boating Near Pench Reservoir –
Named as Kamthikhairy Dam, the Pench Reservoir is basically a natural earth-fill dam emerged from the Pench River. Located inside the Pench Reserve amidst the wilderness of the park, it is the best place to spend a peaceful time in the company of nature. In this dam, the birds and animals of Pench National Park come to drink water and in summer season, this dam gets dried and some small water pools can be seen around which are called khassa locally.
This is the biggest source of water in Pench National Park and gives shelter to numerous water-bodies of the park. Your visit to this reservoir would allow you to enjoy boating with pedal boats, motor boats and row boats which are open for tourists. For bird lovers, this place is perfect to have amazing sights of beautiful birds.
Be Romantic On Candle Light Dine Out With Your Beloved –
For a romantic dine out experience, Pench National Park has several resorts located around. The beautiful Mahua Vann Resort is the best example for romantic couples as here you can have great food with a touch of art and music that make a perfect romantic ambiance for a couple. In the company of your beloved, you can rejuvenate the dine out experience in these resorts.
Discovering The Beautiful Totladoh Dam –
A beautiful dam with sitting arrangement located on the Pench River on the border of Madhya Pradesh, TotlahDoh Dam creates a huge energy for the state. With less crowded surrounding, this dam offers a calm and serene setting to visitors where they can have a great time of their tour.
In this dam, you can behold the beauty of flowing river of Pench and observe the hydroelectric plant which is the main powerhouse of Pench area. The wilderness and appeal of the park extends to this dam and several migratory birds come here for a great time in winters. From the park, this place is just 55 kms away. For people who love camping and nature, must visit this TotlahDoh Dam in Madhya Pradesh.
Visiting Kohka Lake –
Kohka Lake is one of the less explored beautiful landmarks near the Pench Reserve where you can have a great evening or sunset time during your Pench tour. From Turia or Kohka, one can easily reach to this lake via cycle, jeep or even walk.
Filled with stunning fields on its both sides, this lake accommodates several colourful birds. For a calm and serene evening, this place is wonderful.
Pachmarhi –
Famous as the wonderful hill station of MP in India, Pachmarhi is the queen of satpura and extends at 1067 meters elevations in Hoshangabad. This place comprises of several astonishing waterfalls as well as streams which are draped in its areas with Silver Falls, Bee Falls and ApsaraVihar. Pachmarhi offers a great shelter to wildlife species namely Indian Bison and Leopards and for wildlife lovers, this is a must visit place near Pench National Park.
On your tour to Pachmarchi, you can indulge in exploring Satpura National Park and Reserve, explore serene lullaby in RajatPrapat waterfalls, see the Pandava Caves, visiting HandiKhoh, experience standing on the top of Dhupgarh which is the highest point in Satpura Ranges and a lot more.
So, these are few highlighting top activities to try out around Pench National Park and have the unique and wonderful visit experience.